Posts for: April, 2019
By Sparta Dental Care
April 20, 2019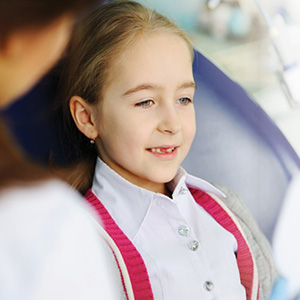 The longer many health problems go on, the worse they become. Treating them as early as possible could stop or slow their development.
That holds true for poor bites: while we can certainly correct them later in life, it's often better to "intercept" the problem during childhood. Interceptive orthodontics attempts to do this with treatments that influence how the jaws and other mouth structures develop during childhood. Many of these techniques are usually best implemented before puberty.
For example, some very complex problems called cross bites can occur if the upper jaw grows too narrowly. We might be able to stop this from happening by using an orthodontic appliance called a palatal expander during the childhood years. It works because the bone at the center of the palate (roof of the mouth) has a gap running back to front until the early teens when the gap closes.
We fit the palatal expander up under and against the palate, then extend out metal arms from a center mechanism to the back of the upper teeth that exert outward pressure on them. This widens the center gap, which the body continually fills with bone as the device gradually exerts more pressure. Over time this causes the jaw to widen and lessens the cross bite. Timing, though, is everything: it's most effective before the gap closes.
Another way to aid jaw growth is a Herbst appliance, a hinged device that alters the movement of the jaws. As a child wears it, a Herbst appliance draws the lower jaw forward to develop more in that direction. Like the palatal expander, it's best used before significant jaw growth occurs.
These are just two examples of techniques and tools that can guide structural growth and prevent bite problems. Because they're most effective in the early years of oral development, your child should undergo an orthodontic evaluation as early as age 6 to see if they need and can benefit from an interceptive treatment.
Interceptive orthodontics can stop or at least slow a growing bite problem. The effort and expense now could save you much more of both later on.
If you would like more information on interceptive orthodontics, please contact us or schedule an appointment for a consultation. You can also learn more about this topic by reading the Dear Doctor magazine article "Interceptive Orthodontics: Timely Intervention can make Treatment Easier."
By Sparta Dental Care
April 10, 2019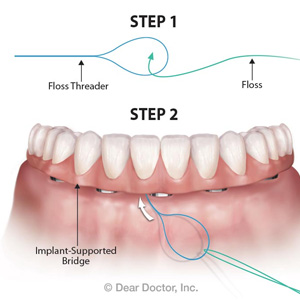 We've been using bridges to replace missing teeth for decades. Now, recently-developed implant-supported bridges are even more dependable, promising greater durability and less interference with remaining natural teeth.
But just like other restorations, you'll need to keep implant bridges clean to ensure their longevity. Although both the bridge and implants are impervious to disease, the supporting gums and bone aren't. If they become infected, they can break down and your restoration will fail.
Cleaning an implant-supported bridge includes flossing around each of the implants to remove dental plaque, a thin film of food particles and bacteria most responsible for dental disease. To perform this task, you'll have to pass the floss between the bridge and gums to access the sides of each implant.
To help make it easier, you can use a tool like a floss threader, a thin, shaft-like device with a loop on one end and a needle-like point on the other. You'll first thread about 18" of floss through the end and then pass the threader between the bridge and gums with the sharp end toward the tongue.
With the threader completely through, you'll then wrap the floss around your fingers as with regular flossing and move the floss up and down each side of the implants you can access. You'll then pull the floss out, reload the threader and move to the next section, repeating this process until you've flossed each side of each implant.
You can also use pre-cut floss with a stiffened end to thread between the bridge and gums or an interproximal brush with a thin bristled head that can reach underneath the bridge. And you might consider using an oral irrigator, a pump device that sprays a stream of pressurized water to remove and flush away plaque around implants.
To round out your hygiene efforts, be sure you visit your dentist at least twice a year for dental cleanings. Your dentist can also advise you and give you training on keeping your implants clear of disease-causing plaque. Cleaning around your implants will help ensure your restoration will last.
If you would like more information on caring for your dental restoration, please contact us or schedule an appointment for a consultation. You can also learn more about this topic by reading the Dear Doctor magazine article "Oral Hygiene for Fixed Bridgework."