Posts for: April, 2018
By Sparta Dental Care
April 25, 2018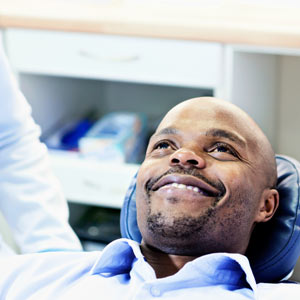 Although dental visits are routine for most people, it's a different experience for a few. About one in ten adults have high anxiety or fear of going to the dentist and may avoid it altogether—even when they have an acute situation.
If you're one of those with dental visit anxiety there's good news—we may be able to help you relax and have a more positive experience. Here are 3 things you need to know about reducing your anxiety at the dental office.
It starts with the dentist. While every patient deserves a compassionate, understanding dentist, it's especially so if you suffer from dental visit anxiety. Having someone who will listen to your concerns in a non-judgmental way is the first step toward feeling more comfortable in the dentist's chair. It also takes a sensitive practitioner to work with you on the best strategy for relaxation.
Relaxation often begins before your visit. There are various degrees of sedation (which isn't the same as anesthesia—those methods block pain) depending on your level of anxiety. If you experience mild to moderate nervousness, an oral sedative an hour or so before your appointment could take the edge off and help you relax. Oral sedatives are also mild enough for use with other forms of sedation like nitrous oxide gas, and with local anesthesia.
High anxiety may require deeper sedation. If your level of anxiety is greater, however, we may recommend IV sedation to induce a much more relaxed state. The sedation drugs are delivered directly into your blood stream through a small needle inserted into a vein. Although you're not unconscious as with general anesthesia, we can place you into a "semi-awake" state of reduced anxiety. The drugs used may also have an amnesiac effect so you won't remember details about the procedure. This can help reinforce positive feelings about your visit and help reduce future anxiety.
If you're anxious about dental visits, make an appointment with us to discuss your concerns. We're sure we can work out a strategy to reduce your anxiety so you can receive the dental care you need.
If you would like more information on sedation therapy, please contact us or schedule an appointment for a consultation. You can also learn more about this topic by reading the Dear Doctor magazine article "IV Sedation in Dentistry."
By Sparta Dental Care
April 15, 2018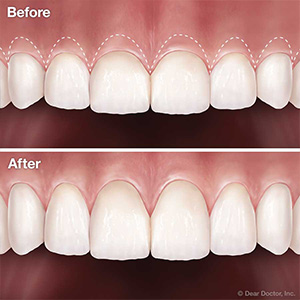 While we often associate tooth decay with cavities forming in a tooth's visible or biting surfaces, the occurrence of this all too common disease isn't limited to those areas. Cavities can develop in any part of a tooth exposed to bacteria.
Gum recession, the shrinking back of the gums from the teeth, can cause such exposure in areas normally covered by the gums. Because these areas are usually more vulnerable to infection when exposed, cavities can develop at or right below the gum line. Because of their location it can be difficult to fill them or perform other treatments.
One way to make it less difficult is to perform a crown lengthening procedure. While the term sounds like we're increasing the size of the tooth, we're actually surgically altering the gums to access more of the affected tooth surface for treatment. It's typically performed in a dental office with local anesthesia by a general dentist or a periodontist, a specialist in the gums.
During the procedure, the dentist starts by making small incisions in the gums to create a tissue "flap" that can be lifted out of the way. This exposes the underlying bone, which they then reshape to support the gum tissue once it's re-situated in its new position. The dentist then sutures the gums back in place. Once the gums heal, the decayed area is ready for treatment.
Crown lengthening is also useful for other situations besides treating cavities. If a tooth has broken off at the gum line, for example, there may not be enough remaining structure to support a crown. Crown lengthening can make more of the underlying tooth available for the crown to "grab" onto. It's also useful in some cases of "gummy smiles," in which too much of the gum tissue is visible in proportion to the tooth size.
Because crown lengthening often involves removing some of the bone and is thus irreversible, you should discuss this procedure with your dentist in depth beforehand. It could be, though, this minor procedure might make it easier to preserve your teeth and even make them look more attractive.
If you would like more information on crown lengthening, please contact us or schedule an appointment for a consultation.