Posts for: June, 2017
By Sparta Dental Care
June 25, 2017
When it's time for your child to visit the dentist (we recommend around their first birthday), you may want them to see your family dentist. But you might also want to consider another option: a pediatric dentist.
The difference between the two is much the same as between a pediatrician and a family practitioner. Both can treat juvenile patients — but a family provider sees patients of all ages while a pediatrician or pediatric dentist specializes in patients who haven't reached adulthood.
Recognized as a specialty by the American Dental Association, pediatric dentists undergo about three more years of additional post-dental school training and must be licensed in the state where they practice. They're uniquely focused on dental care during the childhood stages of jaw and facial structure development.
Pediatric dentists also gear their practices toward children in an effort to reduce anxiety. The reception area and treatment rooms are usually decorated in bright, primary colors, with toys and child-sized furniture to make their young patients feel more at ease. Dentists and staff also have training and experience interacting with children and their parents to help them relax during exams and procedures.
While a pediatric practice is a good choice for any child, it can be especially beneficial for children with special needs. The "child-friendly" environment is especially soothing for children with autism, ADHD or other behavioral/developmental disorders. And pediatric dentists are especially adept in treating children at higher risk for tooth decay, especially an aggressive form called early childhood caries (ECC).
Your family dentist, of course, can presumably provide the same quality care and have an equally welcome environment for children. And unlike a pediatric dentist who will typically stop seeing patients when they reach adulthood, care from your family dentist can continue as your child gets older.
In the end it's a personal choice, depending on the needs of your family. Just be sure your child does see a dental provider regularly during their developing years: doing so will help ensure a lifetime of healthy teeth and gums.
If you would like more information on visiting a pediatric dentist for your child's dental needs, please contact us or schedule an appointment for a consultation. You can also learn more about this topic by reading the Dear Doctor magazine article "Why See a Pediatric Dentist?"
By Sparta Dental Care
June 10, 2017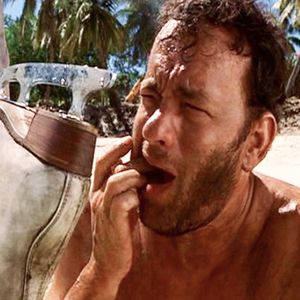 Did you see the move Cast Away starring Tom Hanks? If so, you probably remember the scene where Hanks, stranded on a remote island, knocks out his own abscessed tooth — with an ice skate, no less — to stop the pain. Recently, Dear Doctor TV interviewed Gary Archer, the dental technician who created that special effect and many others.
"They wanted to have an abscess above the tooth with all sorts of gunk and pus and stuff coming out of it," Archer explained. "I met with Tom and I took impressions [of his mouth] and we came up with this wonderful little piece. It just slipped over his own natural teeth." The actor could flick it out with his lower tooth when the time was right during the scene. It ended up looking so real that, as Archer said, "it was not for the easily squeamish!"
That's for sure. But neither is a real abscess, which is an infection that becomes sealed off beneath the gum line. An abscess may result from a trapped piece of food, uncontrolled periodontal (gum) disease, or even an infection deep inside a tooth that has spread to adjacent periodontal tissues. In any case, the condition can cause intense pain due to the pressure that builds up in the pus-filled sac. Prompt treatment is required to relieve the pain, keep the infection from spreading to other areas of the face (or even elsewhere in the body), and prevent tooth loss.
Treatment involves draining the abscess, which usually stops the pain immediately, and then controlling the infection and removing its cause. This may require antibiotics and any of several in-office dental procedures, including gum surgery, a root canal, or a tooth extraction. But if you do have a tooth that can't be saved, we promise we won't remove it with an ice skate!
The best way to prevent an abscess from forming in the first place is to practice conscientious oral hygiene. By brushing your teeth twice each day for two minutes, and flossing at least once a day, you will go a long way towards keeping harmful oral bacteria from thriving in your mouth.
If you have any questions about gum disease or abscesses, please contact us or schedule an appointment for a consultation. You can learn more by reading the Dear Doctor magazine articles "Periodontal (Gum) Abscesses" and "Confusing Tooth Pain."