Posts for: July, 2014
By Sparta Dental Care
July 17, 2014
As our profession advances, we dental professionals continue to find the biggest factor for successful outcomes is an informed patient. The more you know about your own teeth and gums, the greater your chance for a healthy outcome.
Regular dental care is fundamental to becoming informed. Your regular office visits and cleanings are an opportunity for us to "get real" — for you to learn the unvarnished truth about your dental issues and the reasons why you need to consider some options regarding your oral health. We also need to be just as realistic about what can or can't be done to improve your situation and the cost involved.
The best way to approach this is to develop a plan based on managing risk. Risk is essentially weighing anything we may potentially lose against the solutions for not losing it. In dentistry, we look at risk in four basic areas: periodontal, the threats to structures like gums, ligaments and bone that support the teeth; biomechanical, the threats to the structural integrity of teeth such as decay, enamel erosion or fracture; functional, problems that can arise with how the teeth, muscles and jaw joints work together; and aesthetic, the impact of all these threats to the outward appearance of your smile.
Once we know the risks you're facing, we then determine the best treatment approach for managing the risk based on costs and potential outcomes. For example, if you're diagnosed with gum disease, you're at risk for losing supporting bone and, ultimately, the affected teeth. Our primary goal is to prevent that loss from occurring through plaque and calculus removal that slow or stop the disease and allow affected tissues to heal. But if the disease has advanced and you've already experienced bone or even tooth loss, we may then need to modify our treatment goal by including gum surgery or tooth replacement options like dental implants.
Using a risk management approach helps us identify what needs to be treated and the most reasonable and achievable options for treating it. The foundation for this approach is prevention — stopping problems before they start or progress. Developing and maintaining this kind of action plan will help reduce your ultimate costs — emotional, social and financial.
If you would like more information on dental treatment planning, please contact us or schedule an appointment for a consultation. You can also learn more about this topic by reading the Dear Doctor magazine article "Successful Dental Treatment."
By Sparta Dental Care
July 02, 2014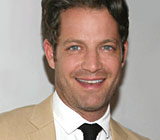 As a successful author, interior design guru (with 127 makeovers in eight years on The Oprah Winfrey Show), and host of his own television program, The Nate Berkus Show, Nate Berkus understands the important role a beautiful smile plays in one's life and career. In a recent interview with Dear Doctor magazine, Nate discussed his oral health history. Berkus credits his all natural smile — no cosmetic dentistry here — to the treatments he received as a child from his dentist. "I'm grateful for having been given fluoride treatments and sealants as a child." He then added that, "healthy habits should start at a young age."
Dental sealants are important because they help protect developing young teeth until the enamel has matured. Without dental sealants, the newly erupted immature enamel of teeth is more permeable, meaning that the acids produced by bacteria in the mouth can damage these teeth more easily. This makes the teeth less resistant and thus more susceptible to tooth decay.
Regardless of how much your children brush their teeth, the reality is that toothbrush bristles cannot reach down to clean out the crevices found in the deep grooves ("pits and fissures") of teeth. And if not removed, the bacteria found in these grooves produce decay-causing acids as a byproduct of metabolizing sugar. However, when sealants are used in combination with fluoride, good hygiene and nutrition (including lower sugar consumption), the odds of having tooth decay is dramatically reduced.
We refer to dental sealants as "pit and fissure" sealants because they protect the grooves found in the top of back teeth and the back of front teeth. Sealants also may reduce the need for subsequent treatments as your child grows older — just as it did for Nate Berkus. For these reasons, sealants are definitely something that all parents and caregivers should consider for their young children.
To learn more about dental sealants, contact us today to schedule an appointment so that we can conduct a thorough examination, discuss any questions you have as well as what treatment options will be best for you or your child. Or to learn more about sealants now, you can continue reading the Dear Doctor magazine article "Sealants for Children." And to read the entire interview with Nate Berkus, please see the Dear Doctor magazine article "Nate Berkus."